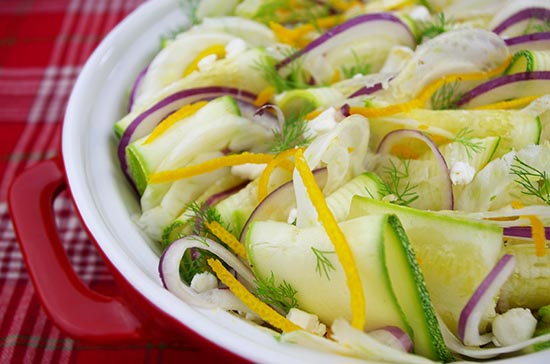 Grey Squash and Citrus Salad
This salad is aromatic, zesty and provides a dazzling presentation for your next picnic, backyard barbecue or any gathering of fresh food enthusiasts.
Serves 2-4
Ingredients
4 grey squash
½ small fennel bulb and leaves for garnish
1 red onion
1 orange
2 Tbsp goat cheese
1 Tbsp olive oil
1 tsp vinegar
Salt and pepper
Instructions
Thinly slice grey squash, cutting on angle. Slice fennel and red onion into thin rounds. Peel orange, then using julienne peeler, cut orange peel into thin strips. Arrange squash, fennel, onion and orange peel on serving platter. In a small bowl, mix salt, pepper, olive oil, vinegar, and the juice from the orange. Pour over salad to thoroughly coat all ingredients. Garnish with goat cheese and fennel leaves.
Enjoy!