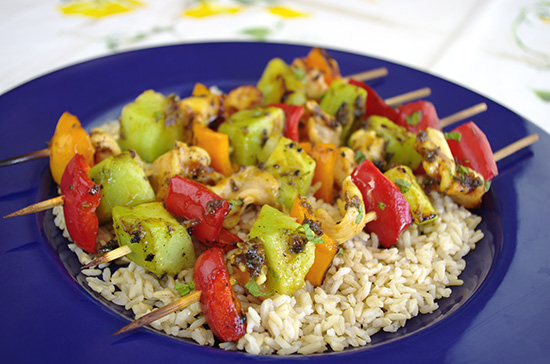 Glazed Honeydew & Chicken Skewers
This dish – great as an appetizer or main course –  delivers a medley of nutrients and a wide array of flavors that all play nicely together on and off the skewer.
Serves 4-6
Ingredients
1 firm honeydew melon
2 chicken breasts, partially frozen
2 red peppers
1 cup pineapple juice
2 Tbsp apricot jam
½ tsp salt
2 Tbsp soy sauce
½ cup fresh mint
Instructions
In small saucepan, simmer pineapple, juice, jam, mint, salt and soy sauce until liquid is reduced by at least half. Set aside to cool slightly. Remove chicken from freezer before it completely hardens, as it will be easier to slice. Cutting on angle, slice chicken breast very thinly then set aside. Cut honeydew melon, pineapple and bell peppers into 1" cubes, removing seeds and/or rinds. Thread chicken, pineapple, honeydew melon and bell pepper onto skewer. Grill, turning occasionally, until chicken is completely cooked. During last minute of cooking, brush pineapple glaze over skewers. Serve immediately, garnishing with extra mint and glaze.
Enjoy!