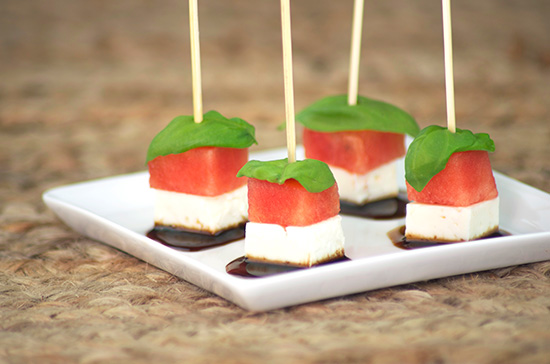 Watermelon Canapés
Fresh and delightful, this dish bursts with the sweet juices of ripe watermelon, tender basil leaves and the sweet citrus tang of balsamic vinegar.
Serves 4-6
Ingredients
½ cup balsamic vinegar
½ cup of orange juice.
1 small watermelon with firm flesh
1 block of feta cheese
Fresh basil
Instructions
Combine ½ cup balsamic vinegar with ½ cup orange juice. Gently simmer on medium heat until liquid has thickened to the consistency of honey. Set aside and cool.
Slice watermelon and feta cheese into equal sized squares. Assemble with feta on the bottom, topped with watermelon and a small basil leaf. Pierce with a toothpick, and present atop of a spoonful of balsamic reduction.
Enjoy!