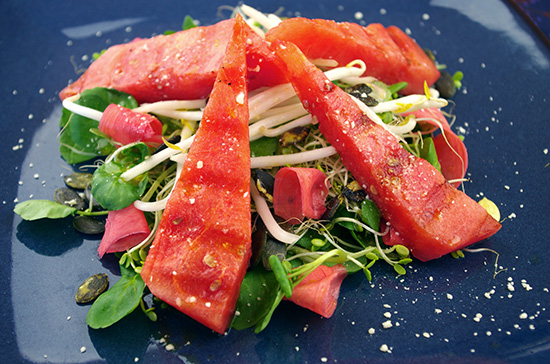 Grilled Watermelon Salad
Enjoy all the best flavors of summer any time of the year. Fresh, sweet watermelon pairs with pickled ginger for a zesty combination that'll invigorate your taste buds.
Serves 2 (can easily be doubled)
Ingredients
Pickled ginger:
Fresh ginger root
¼ cup sugar
½ red wine vinegar
½ cup water
1 tsp salt
4 drops of red food coloring (optional)
Salad:
½ small firm watermelon
2 cups of Bean sprouts or watercress greens
2 Tbsp roasted pumpkin seeds
2 Tbsp orange juice
1 Tbsp olive oil
Instructions
Pickled ginger: In small container, mix vinegar with water, sugar and salt. Stir until granules dissolve. If you prefer pale pink ginger, mix in red food coloring. Using a mandolin, slice peeled ginger-root into paper-thin slices. Place into vinegar liquid and set aside for at least 4 hours, preferably overnight.
To assemble salad: Heat grill to high. Slice watermelon into two ½" rounds. Gently grill sliced watermelon for 1 minute on each side, or until grill marks appear then remove from grill and set aside. Layer greens on serving plate. Top with crumbled cotija cheese, roasted pumpkin seeds, and pickled ginger. Cut grilled watermelon rounds into long triangle wedges and arrange on top of salad. In a small bowl, mix 2 Tbsp of pickled ginger liquid, orange juice, and olive oil then spoon generously onto salad.
Enjoy!