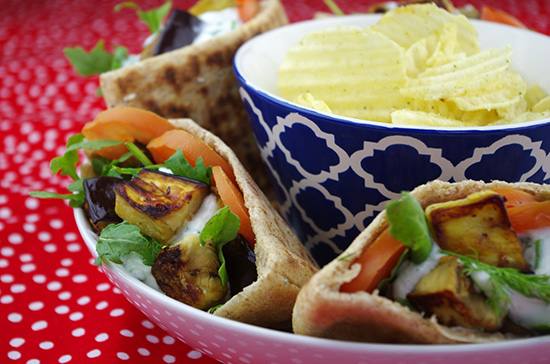 Eggplant & Dill Pita Pocket Recipe
A delicious combo of warm and cool, tangy and refreshing, these pita pockets will be your go-to vegetarian lunch and make a great snack, too!
Serves 4
Ingredients
2 medium eggplants
2 cloves garlic, minced
2 Tbsp. olive oil
1 lemon, juiced,
1 cup yogurt
1 bunch dill
1 tomato, sliced
Arugula
4 pita bread pockets
Instructions
Turn oven to 400F, then line a large baking sheet with foil. Cut eggplant into 1" cubes, then using fingers rub olive oil, garlic, salt and pepper into eggplant so that each piece is thoroughly coated. Bake eggplant for 20 minutes or until it is tender, then turn off the heat leaving eggplant in the oven. Place pita pockets into hot oven for 5 minutes until warmed through. In a small bowl, combine yogurt, lemon juice and dill. Remove eggplant and pita bread from oven, and then assemble sandwiches with arugula, eggplant, tomato and the yogurt mixture. Garnish with extra dill and serve immediately.
Enjoy!