Recipes
Herbed Grey Squash, Potato & Sausage Casserole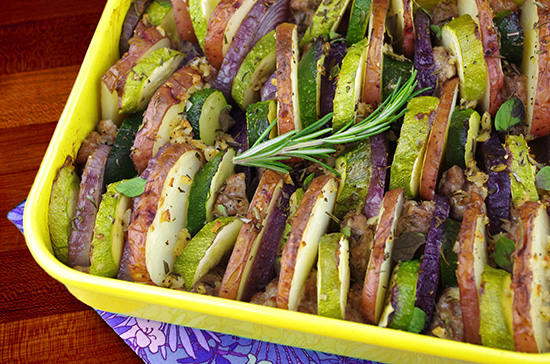 Herbed Grey Squash, Potato & Sausage Casserole
Hearty and delicious, this dish takes comfort food to a whole new level… You may have just found your family's favorite dinner guest.
Serves 4-6
Ingredients
6 grey squash or zucchini
4 potatoes
2 red onions
1 lb ground Italian sausage
4 garlic cloves, peeled and crushed
¼ cup olive oil
1 cup mixed fresh herbs, finely diced
Sat and pepper
Instructions
Turn oven to 400F and grease a 9×13" casserole dish. Cut squash, potatoes and onions into ¼" rounds of similar diameter. If necessary, cut squash on angle to achieve wider slices. Vertically stack vegetables in casserole dish, alternating vegetables and sausage. In small bowl, mix olive oil, garlic, herbs, salt and pepper. Brush over squash, peppers, onions and sausage to completely glaze. Bake for 40-50 minutes or until potato is tender and slightly golden brown. Serve immediately, garnished with extra fresh herbs.
Enjoy!