Recipes
Cucumber & Smoked Salmon Pinwheels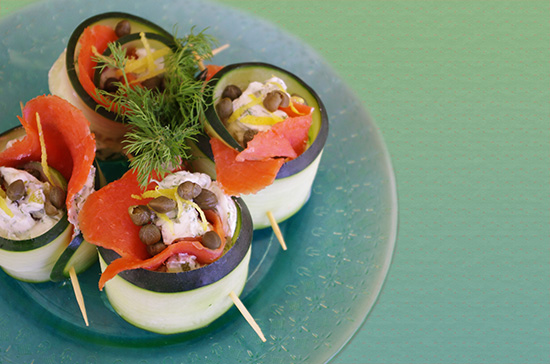 Cucumber & Smoked Salmon Pinwheels
Serve these festive finger foods as an app or a sure-to-be-popular feature of your brunch buffet.
Serves 4
Ingredients
2 English cucumbers
8 oz. cream cheese, room temperature
4 oz. fresh dill, roughly chopped
2 dill pickles, finely diced
6 oz. Salmon lox or cold-smoked salmon
Capers
Instructions
Cut cucumber lengthwise into long strips using mandolin or wide vegetable peeler. In a small bowl, mix cream cheese, dill pickles and fresh dill. Spread a thin layer of cream cheese mixture lengthwise down each slice of cucumber. Cover cream cheese layer with a thin layer of sliced salmon. Carefully roll from narrow end, securing with toothpick once rolled. Garnish with capers and extra dill.
Enjoy!